Adding a pop of color to your home with cabinets, islands, built-ins or furniture is a fun way to bring color to an otherwise neutral space. We have taken the top-purchased Benjamin Moore colors for these projects (from our online store) and come up with a list of our favorite trending colors. From moody blacks to soft blues, these colors will give your space the distinct style and personality you've been looking for. The best part - you can shop online for quicker in-store pick-up, easy curbside pick-up or local 5-mile delivery!
Jet Black 2120-10
Jet Black is the epitome of sophistication. This deep black will make a statement and pairs perfectly with an off-white or ivory wall. Purchase Benjamin Moore Advance in Jet Black here.
Antique Jade 465
Like a breath of fresh air, Antique Jade gives luminosity and life to any space it occupies. Shop Benjamin Moore Advance in Antique Jade here.
Onyx 2133-10
The perfect soft-black, Onyx supplies plenty of drama without being too harsh. Purchase Benjamin Moore Advance in Onyx here.
Amazon Soil 2115-30
Amazon Soil is described by Benjamin Moore as, "A hint of black gives this pronounced shade of deepest mauve its rich, velvety quality. Dramatically dark, it inspires a sense of tranquility."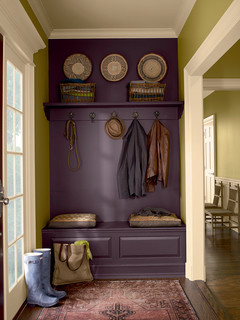 Photo by
The Happy Home Project via Houzz.com
Cheating Heart 1617
Cheating Heart is a color that truly does it all. It's a balance of blue, gray and black that pairs well with modern and traditional surroundings. Shop Cheating Heart in Benjamin Moore Advance here.
Aegean Teal 2136-40
Benjamin Moore describes Aegean Teal as "a blend of blue-green and gray, Aegean Teal is an intriguing midtone that creates natural harmony." Buy Benjamin Moore Advance in Aegean Teal here.
Old Navy 2063-10
A saturated, royal blue, Old Navy is a bold sure to leave an impression. Buy Benjamin Moore Advance in Old Navy here.
This transitional bathroom from Barnes Building & Remodeling showcases how a small project can make a big impact by using a bold color.
Dark Olive 2140-30
"Fresh yet still familiar, this super-saturated shade of olive immediately adds dimension to any living space." - BenjaminMoore.com
Purchase Dark Olive in Benjamin Moore Advance here.
Newburyport Blue HC-155
A timeless favorite, Newburyport Blue is always a crowd-pleaser. This muted navy will stand out without too much vibrancy. Shop Newburyport Blue in Benjamin Moore Advance here.
This kitchen from Sweeten.com features a kitchen remodel with Newburyport Blue cabinets anchoring the room.
All these projects can be completed using Benjamin Moore Advance Waterborne Alkyd Paint. It is self-leveling and cures to a hard finish to withstand daily wear.
You can find everything you need right here and pick up in-store, curbside or with free delivery within 5 miles of our stores.